Go Putting with Marius Filmalter
LOCATIONThe Colony, TX
AVAILABILITYYear-round on weekdays pending Marius' availability
DURATIONApproximately 3 hours
HIGHLIGHTS+ Marius has worked with top touring professionals including Tiger Woods, Vijay Singh, Ernie Els and Ye Yang just to name a few.
+ Marius has measured and analyzed over 60,000 professional and amateur putting strokes using state of the art technology he co-invented. During the lesson, he puts his wealth of data and assessment to work for you.
+ The key to a better golf score is better putting. The pros trust Marius, shouldn't you?
HOW DOES THIS WORK?1. First, purchase an event.
2. After purchase, you be redirected to the event success page, which will display the hosts contact information. You can then contact them to book your event.
3. Then, enjoy and have fun!
Take your golf game to the next level with a three hour private lesson from the world's leading authority on putting, Marius Filmalter, at Old American Golf Club! Marius Filmalter is a professional golf instructor and research scientist who has spent over twenty years studying and identifying the factors that allow golfers to perform at the highest levels. His specialty is the putting stroke, arguably the most important and often overlooked aspect of golf.
Throughout his career, Marius has analyzed over 60,000 professional and amateur putting strokes compiling the world's most extensive putting performance database. This wealth of data was the foundation of Marius' assessment for improving putting performance and served as his breakthrough discovery of 10 characteristics shared by all great putters.
In your 3 hour one-on-one lesson with Marius, you'll cover topics including:
The characteristics of the best putting strokes on tour
Computer-assisted measurement and analysis of your putting stroke with SAM or TOMI technology
Distance and directional control (finding the speed of the greens and calibrating square)
Reading greens
Effective pre-shot routines
Adjusting to varying grasses, grain and speeds of greens
Develop drills and exercises to improve your putting
Take your short game to the next level and start scoring better today!
About Marius Filmalter:
Marius is a leading authority on short game shots and putting in the world of golf. He has worked with legendary instructors like Hank Haney and tour professionals including Tiger Woods.
In 2009 Marius was awarded Golf Magazine's Innovator of the Year award, and is a monthly columnist for Golf Magazine and Golf.com. He is the co-inventor of SAM Puttlab and TOMI putting technology.
Essential Information:
Includes all course fees.
Duration:
Approximately 3 hours
Maximum Participants:
One
Spectators:
This experience is for the participant only
Weather Dependent:
This experience is weather dependent. In the event of possible inclement weather, please contact your instructor.
What to Wear:
Appropriate golf attire including a collared or mock neck shirts, spikeless golf shoes, and slacks or Bermuda shorts. Please bring your own golf clubs for the lesson.
Booking Information:
For this experience, it is recommended to request bookings 2 weeks in advance.  
Will this be a private lesson with Marius?
Yes, this is a one-on-one lesson with Marius Filmalter and is your opportunity to learn from an instructor who provides putting instruction to touring professionals on a routine basis.
When can I schedule my lesson?
Instruction with Marius is available 5 days a week, year-round. Please note: Marius does travel providing instruction to golfers and professionals so scheduling is based on his availability.
The Old American Golf Club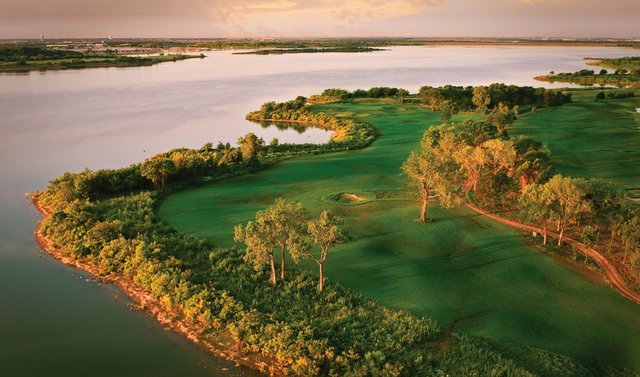 Classic American
Designed by Tripp Davis and 12-time PGA tour winner Justin Leonard, The Old American Golf Club began with the natural beauty of a prime landscape along the shores of Lake Lewisville.
In keeping with the authenticity of the land, Davis and Leonard crafted a course design that is representative of classic American golf. From naturally formed bunkers and native grasses, to strategically designed holes that leverage varying wind conditions, the architects endeavored to create a course with exquisite balance.
The Old American possesses substance – a true golfer's course. Where strategic play is necessary. A course that intrigues the golfer with ever changing elements that create a different experience each time it is played.
Pure Experience
Encounter a golf experience in its purest form. The Old American takes you back in time, allowing you to focus on the fundamental elements of enjoying a round. Our approach is personal. Our experienced PGA certified staff is always available to enhance your experience on and off the course. With the touch of a button, our advanced GPS system links you to everything you desire, on your terms. The Old American provides a complementary snack cooler on your cart and several refreshment stations along the course filled with snacks and beverages to recharge you for the rest of your play.
Sustainable Setting
The Old American pays homage to the environment on which the course was built. Preservation of the wildlife and resources surrounding the course were innate to the design. Lewisville Lake makes a stunning appearance on several holes, providing challenging natural water hazards and a beautiful backdrop. Careful attention was paid to the conservation and utilization of water throughout the course. Native grasses, trees and plants are used in order to preserve water as well as create intentional wildlife habitats. An abundance of wildlife makes its home on the course, including wild turkeys, deer, coyotes and birds of prey, such as the Red Tail Hawk, which nests the immense oaks to the left of #13 and the right of #16.
Be a part of history. Play The Old American.
Cancellation Policy:

Prior to scheduling/booking a date for this experience, Cloud 9's standard return and exchange policy shall apply. Once you have scheduled a date and received a booking confirmation, no refunds will be given but you may reschedule your lesson with at least 72 hours notice to your instructor.